Mutfak eşyalarının ingilizceleri, resimleri ve ingilizce tanıtımları. Resimli ingilizce mutfakta kullanılan tüm eşyalar, ingilizceleri ve anlamları.
Resimli İngilizce Mutfak Eşyaları
Pan
A pan is a flat-bottomed and circular cooking utensil that is typically used for stove-top cooking. It can be made from a variety of materials such as cast iron, stainless steel, aluminum, and copper. Pans are used for a wide range of cooking methods including frying, sautéing, boiling, and simmering. Some pans have a lid to cover the food while it is cooking, while others have a handle to allow for easy lifting and tossing of ingredients. The size and shape of the pan can affect the cooking process, and various types of pans are designed for specific cooking tasks, such as making pancakes, omelets, or stir-fries.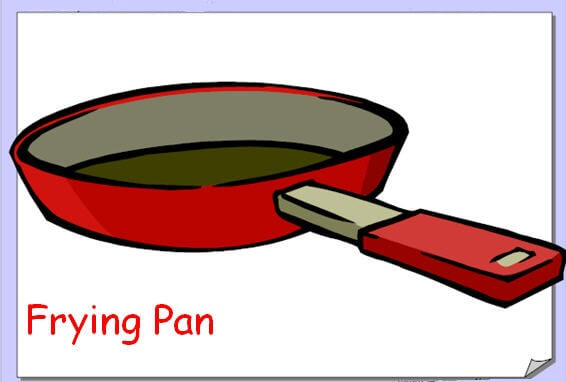 Keetle
A kettle is a type of pot with a lid, spout, and handle used for boiling water. It is typically made of materials such as stainless steel, aluminum, copper, or ceramic. Kettles are used for a variety of purposes including making tea, coffee, hot chocolate, and other hot beverages, as well as cooking pasta and other foods that require boiling water. Some kettles have a whistle that sounds when the water has reached boiling point, while others have an electric heating element and are cordless for convenience. The size and design of kettles vary, and some come with additional features such as temperature control and keep-warm function
Bowl
A bowl is a round and deep dish used for serving food, holding ingredients, and cooking. It can be made from various materials including ceramic, glass, plastic, wood, and metal. Bowls are used for a wide range of food items such as soup, cereal, pasta, fruit, and ice cream, as well as for mixing and preparing ingredients. The size and shape of bowls can vary, and some are designed for specific uses such as mixing, serving, or presentation. Bowls can also be decorative, and some are designed for specific occasions or cultural uses, such as rice bowls in Japanese cuisine.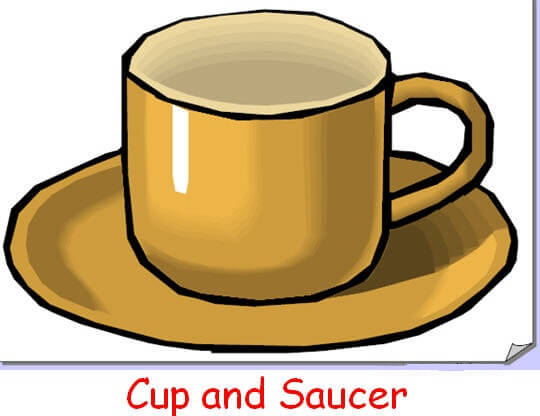 Cup and Saucer
A cup and saucer is a type of tableware consisting of a small cup and a shallow plate used for serving hot beverages, such as tea or coffee. The cup is designed to hold the hot liquid, while the saucer provides a surface to set the cup on and catch any spills. Cups and saucers can be made from various materials including porcelain, bone china, glass, and ceramic. They come in different sizes and designs, and some sets are specifically made for formal occasions, while others are made for everyday use. The combination of the cup and saucer provides a convenient and elegant way to serve hot beverages and is commonly used in homes and cafes.
Knife, Fork, Spoon
A knife, fork, and spoon are three basic pieces of cutlery used for eating and preparing food.
A knife is a cutting tool with a sharp blade used for slicing, chopping, and cutting food. The handle provides a grip to hold the knife while using it. Knives come in various sizes and shapes, and each type of knife is designed for a specific purpose, such as slicing bread, filleting fish, or chopping vegetables.
A fork is a tool with two or more prongs used for picking up food and conveying it to the mouth. Forks come in different sizes and styles, and some have a curved shape to make it easier to spear food.
A spoon is a utensil with a round or oval bowl and a handle used for scooping, stirring, and eating food. Spoons come in different sizes and shapes, and each type of spoon is designed for a specific purpose, such as eating soup, stirring coffee, or serving dessert.
Together, a knife, fork, and spoon form a basic set of cutlery used for eating a meal. They can be made from various materials including stainless steel, silver, plastic, and wood.
Glass
Napkin
A napkin is a piece of cloth, paper or other absorbent material used primarily for wiping the mouth and hands while eating. Napkins can be disposable or reusable, and come in various sizes, colors, and shapes. Paper napkins are commonly used in fast food restaurants, while cloth napkins are used in formal dining settings. Cloth napkins can be made of cotton, linen, or silk, and can add a decorative touch to a table setting. In addition to their functional use, napkins can also be used as decoration, such as folded into shapes or used to hold utensils. Napkins play a role in basic hygiene and table manners, as they help to keep the eating area clean and minimize the transfer of germs.
Sink
A sink is a basin used for washing dishes, hands, and food. It is a common fixture in kitchens, bathrooms, and utility rooms. Sinks come in different shapes, sizes, and materials including stainless steel, ceramic, and composite materials.
Cooker
A cooker is a kitchen appliance used for cooking and heating food. It typically refers to a range or stove that has one or more ovens and cooking surface, usually including burners or hot plates.
There are several types of cookers, including:
Gas cookers – These have burners powered by natural gas and offer precise temperature control.
Electric cookers – These have radiant heating elements and may be powered by electricity or by induction.
Dual fuel cookers – These have both gas and electric components, combining the benefits of both types.
Microwave cookers – These use microwave radiation to heat and cook food.
Tap
A tap is a valve that controls the release of a liquid, such as water, from a pipe or container. Taps are commonly found in kitchens and bathrooms and are used for washing, cooking, and cleaning.
Refrigerator, Fridge
A fridge, short for refrigerator, is a household appliance used for storing food and beverages at low temperatures to keep them fresh. It is one of the most common appliances in a kitchen.
Fridges come in various sizes and designs, including top-freezer, bottom-freezer, side-by-side, and French door models. Some fridges also have additional features such as an ice maker, water dispenser, and adjustable shelving.
Cupboard
A cupboard is a type of storage furniture used for storing household items. It typically consists of shelves and doors and is used for storing items such as dishes, glasses, food, and other household goods. Cupboards can be found in many rooms of a home, including the kitchen, dining room, and bedrooms.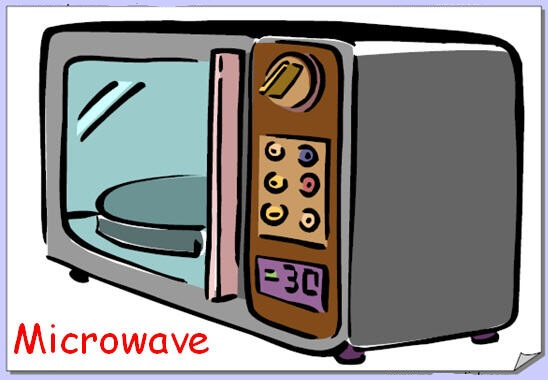 Microwave
A microwave is a kitchen appliance that uses electromagnetic radiation to heat and cook food. It is one of the most commonly used kitchen appliances and is used for reheating leftovers, cooking frozen foods, and heating beverages.
Plate rack
A plate rack is a type of kitchen storage unit that is used to store plates, saucers, and other similar items. It typically consists of several horizontal shelves that are stacked vertically, with spaces between the shelves to accommodate plates. Plate racks can be made of various materials, including wood, metal, and plastic, and come in a variety of sizes and designs to fit different kitchen styles and needs.
Toaster
A toaster is a kitchen appliance used for toasting bread and other baked goods. It typically consists of two slots into which slices of bread are placed and a mechanism for controlling the toasting time and temperature.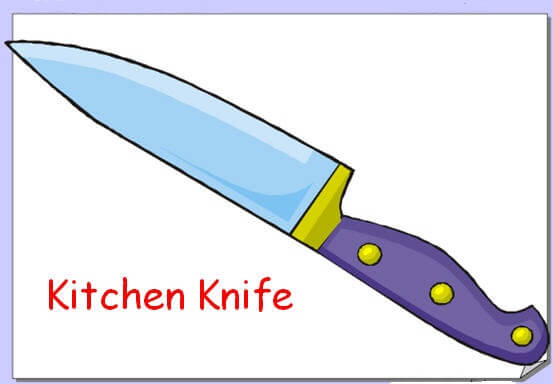 Can Opener
A can opener is a kitchen tool used to open cans of food. It typically consists of a cutting blade that punctures the lid of a can, a mechanism for holding the can in place, and a handle for turning the blade.
Bottle opener
A bottle opener is a tool designed to open bottles, usually made of metal or plastic. It typically consists of a small lever that is used to pry the cap or cork off of the bottle, making it easier to access the contents inside. There are many different types of bottle openers, including the traditional "church key" style, winged corkscrews, and more modern designs that can be attached to a keyring or incorporated into other items such as a kitchen knife.
Measuring spoons
Measuring spoons are a set of small utensils used to accurately measure small amounts of ingredients, especially when baking or cooking. They usually come in a set of four to six spoons of different sizes, including teaspoons and tablespoons. The sizes are usually stamped or printed on the handle of each spoon for easy identification. Measuring spoons are typically made of metal, plastic or a combination of both, and are designed to be durable and long-lasting. The accuracy of the measurement can be critical in some recipes, so using proper measuring spoons is important to ensure the final result turns out as intended.
Chopsticks
Chopsticks are a type of eating utensil that originated in China and are widely used in East and Southeast Asian countries. They are two thin, narrow sticks, usually made of bamboo, wood, plastic or metal, used to pick up small pieces of food. Chopsticks are held between the thumb and fingers, and require some dexterity to use effectively. Chopsticks can be a more environmentally-friendly alternative to forks and spoons, as they can be reused and are biodegradable. In Asian cultures, chopsticks have a significant cultural and historical significance, and are often used in traditional and ceremonial settings. Chopstick etiquette, such as not crossing chopsticks or sticking them upright in a bowl of rice, also varies between different cultures.
Place mat
A placemat is a protective and decorative item placed on a table or countertop to protect the surface and enhance the appearance of the table setting. Placemats come in a variety of materials including paper, plastic, cloth, and woven materials, and can be used in both casual and formal settings. In addition to their functional use, placemats can also be used for decoration, adding color and pattern to a table setting. They can be disposable or reusable, and some styles can even be wiped clean for easy maintenance. Placemats can also be used to indicate seating arrangements, or as a base for serving dishes and utensils, helping to keep the table clean and organized.
Salt and pepper shaker