Yer mekan isimlerinin ingilizceleri, resimli kartları, ingilizce tanıtımları. Resimli yer isimlerinin ingilizceleri, açıklamaları.
Gym
A gym is a place where people go to engage in physical exercise, strength training, and cardio activities. It is equipped with various types of exercise equipment and machines, such as weight machines, free weights, treadmills, stationary bikes, and more. Some gyms also offer group fitness classes, personal training, and other fitness-related services.
Cinema
A cinema, also known as a movie theater, is a public venue where films or movies are shown on a big screen to an audience. People sit in seats to watch the film and listen to the sound through speakers.
Cinemas have been around for over a century and have become a popular form of entertainment for people of all ages. They are typically equipped with modern sound and projection systems to enhance the viewing experience. Many cinemas also offer additional amenities such as concession stands, comfortable seating, and special screenings. Cinemas play a big role in the film industry and are used to showcase new releases and classic films.
Restaurant
A restaurant is a place where people go to eat prepared food in a public setting. Restaurants typically serve a variety of food and drink options, including both meat-based and vegetarian dishes, desserts, and beverages. Some restaurants may also offer catering services, take-out options, or delivery.
Night club
A nightclub is an entertainment venue that usually operates late into the night, serving as a bar and dance floor for patrons. Nightclubs often feature live music, DJ sets, and various forms of entertainment such as comedy acts, performance art, and live theater. The atmosphere and experience of a nightclub can vary greatly depending on the venue and the target audience, ranging from a casual, laid-back environment to a high-energy, frenetic dance scene. Some nightclubs also offer additional amenities such as VIP areas, bottle service, and special events. It's important to note that the operation of nightclubs is subject to local laws and regulations regarding alcohol sales, age restrictions, and noise levels.
Post Office
A post office is a government-run facility that provides postal services to the public. Some of the most common services provided by post offices include mailing letters and packages, purchasing postage stamps, sending and receiving money orders, and renting PO boxes for mail and package delivery. Post offices may also offer additional services such as passport processing, mail forwarding, and shipping supplies. Some post offices have extended hours and offer services on weekends and holidays. In many countries, the post office also serves as a governmental agency responsible for the distribution of government-issued documents and the collection of taxes. The operation of post offices and the services they offer can vary greatly between countries and regions.
Hospital
A hospital is a healthcare institution that provides medical and surgical care to patients in need of treatment for various illnesses and injuries. Hospitals typically have a staff of healthcare professionals, including doctors, nurses, and support personnel, who work together to diagnose and treat patients. Hospitals offer a wide range of services, including emergency care, inpatient and outpatient surgeries, diagnostic imaging, and specialist consultations. They may also have specialized departments for areas such as cardiology, oncology, pediatrics, and psychiatry. In addition to medical care, hospitals may also offer support services such as rehabilitation, dietary counseling, and social work. The quality and range of services offered by hospitals can vary greatly depending on the hospital's size, location, and funding.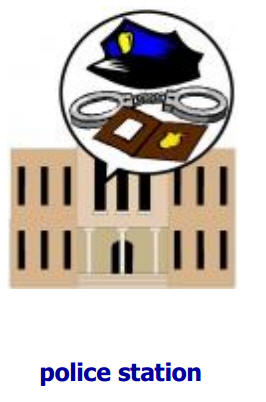 Police station
A police station is a facility that serves as the headquarters for local law enforcement officers and provides a secure location for the processing of arrested individuals, the storage of evidence, and the investigation of crimes. Police stations typically have a staff of police officers, detectives, and support personnel who work together to maintain public safety and enforce the law. In addition to responding to emergency calls and investigating crimes, police officers stationed at a police station may also engage in community policing activities such as neighborhood patrols, youth outreach programs, and crime prevention initiatives. Police stations may also have specialized units, such as traffic divisions, forensic units, and detective bureaus, that focus on specific areas of law enforcement. The size, facilities, and services offered by police stations can vary greatly depending on the location and the population they serve.
Chemist's
A chemist's, also known as a pharmacy, is a retail shop where customers can purchase medications, health and beauty products, and other related items. Chemists are typically staffed by licensed pharmacists who are trained to dispense medications and provide advice on their safe and effective use. In addition to selling over-the-counter medications, pharmacists can also fill prescriptions ordered by doctors and other healthcare providers. Some chemists also offer additional services such as health screenings, vaccinations, and medication management. The range of products and services offered by a chemist can vary greatly depending on the size and location of the shop, as well as local laws and regulations. In some countries, pharmacists are also responsible for monitoring the use of certain controlled substances and providing information to customers about the safe use of medications.
Pavement
A pavement is a durable surface material that is used to create outdoor walkways, roads, and other types of hardscaping. The main purpose of a pavement is to provide a stable and durable surface that can withstand heavy foot and vehicular traffic. Pavements can be made of a variety of materials, including asphalt, concrete, brick, stone, and gravel. The choice of material and design of a pavement can depend on various factors such as the intended use, traffic volume, climate, and local building codes. Some pavements also incorporate features such as drainage systems, reflective markings, and pedestrian crossings to enhance safety and functionality. Properly designed and maintained pavements can provide long-lasting, functional surfaces for both pedestrians and vehicles, and are an important component of the built environment.
Motorway
A motorway, also known as a highway or freeway, is a high-capacity road designed for fast and efficient travel by automobiles and other motor vehicles. Motorways are typically characterized by multiple lanes, limited access points, and a lack of intersections or cross-traffic. They are often designed to connect cities, suburbs, and other major traffic centers, and may span hundreds of miles.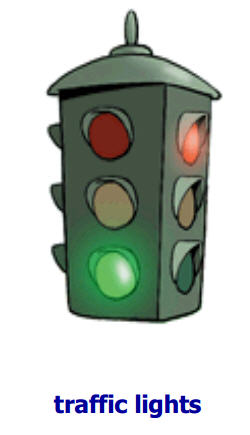 Traffic lights
Traffic lights, also known as traffic signals, stop lights, or signal lights, are signaling devices that are positioned at road intersections, pedestrian crossings, and other locations to control the flow of traffic. They consist of red, yellow, and green lights which indicate when vehicles should stop, proceed with caution, or proceed normally. Traffic lights are typically operated by a control system that uses timers and sensors to change the light sequence in a predictable manner. The use of traffic lights has greatly improved the safety and efficiency of roadways, reducing the number of accidents and facilitating the movement of vehicles and pedestrians.
Phone box
Phone box, also known as a telephone booth, payphone, or call box, is a small structure or cabin designed for people to make telephone calls in a public place. Phone boxes were originally installed by telecommunication companies to provide access to telephones for people who didn't have a phone in their homes. They were widely used before the widespread adoption of mobile phones, but their usage has declined as more and more people now use mobile phones for communication.
Pedestrian Crossing
A pedestrian crossing is a designated area on a road where pedestrians can cross safely. It is marked by painted lines, signs, and sometimes flashing lights. The purpose of a pedestrian crossing is to provide a safe place for pedestrians to cross the road and to help regulate traffic flow.
There are several types of pedestrian crossings, including zebra crossings, pelican crossings, puffin crossings, toucan crossings, and ladder crossings. The most common type is the zebra crossing, which is marked by white stripes painted on the road and is usually accompanied by pedestrian crossing signs. At a pedestrian crossing, drivers are required to give way to pedestrians and stop if necessary to allow them to cross safely.
Bus stop
A bus stop is a designated location where a bus stops to pick up or drop off passengers. It is usually marked by a sign and a shelter, and is located along a bus route. Bus stops are an essential component of public transportation systems and play a crucial role in connecting people.
Statue
A statue is a three-dimensional representation of a person, deity, animal, or mythical creature, usually made of stone, metal, or a similar material, and placed in a public area for artistic or commemorative purposes. Statues can be found in a variety of sizes, from small tabletop figurines to large, multi-story structures. They are widely used in public spaces to honor important figures or commemorate significant events and often serve as landmarks and tourist attractions.
Street
A street is a public thoroughfare in a built environment. It is a public parcel of land adjacent to buildings in an urban context, on which people may freely assemble, interact, and move about. Streets can serve a variety of functions, including facilitating access to buildings, transporting people and goods, and providing recreation space. They can also serve as important public spaces where people can gather and socialize. The design and management of streets can have a significant impact on the quality of life in communities, and they are often the focus of urban planning and design efforts.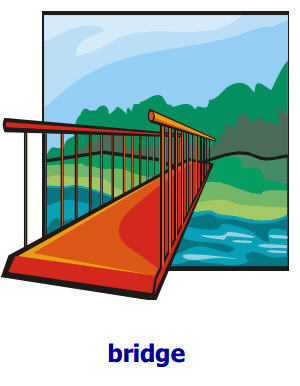 Bridge
A bridge is a structure built to span a physical obstacle, such as a body of water, valley, or road, and provide passage over it. Bridges can be made of a variety of materials, including concrete, steel, and wood, and can be designed in many different shapes and styles. Some bridges are designed for specific purposes, such as carrying road or rail traffic, while others are built for pedestrians or cyclists.
Bridges play an important role in transportation, connecting communities and facilitating the movement of people and goods. They also have cultural and symbolic significance, serving as landmarks and symbols of human engineering and progress.
Car park
A car park, also known as a parking lot or parking garage, is an area designated for vehicle parking. It is a multi-story or ground-level facility that provides space for drivers to park their cars temporarily, either for free or for a fee. Car parks are typically located in urban areas near shopping centers, public buildings, airports, and other popular destinations.
Car parks can be either open-air or covered, and can range in size from a few spaces to many thousands of spaces. The design of car parks is influenced by a variety of factors, including the local climate, land use regulations, and the size and type of vehicles that will use the facility.